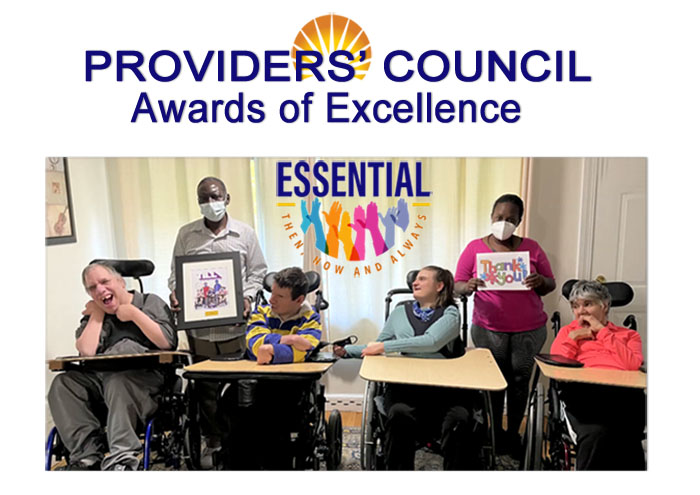 TILL's Lynnfield residence has been recognized for their ongoing support of their local community through their innovative volunteer projects. These passionate volunteers, who live in a group residence that supports people with high medical and physical needs, has turned the notion of volunteerism upside down, earning the Provider's Council volunteer of the year award. The Providers' Council honors deserving individuals and organizations each year with its Awards of Excellence program at their annual convention.
Their most recent project - "Cookies for a Cause" kits – raised money in support of Project Bread's 2021 Walk for Hunger. These beautifully packaged, homemade sugar cookies and all of the supplies needed to decorate them, were created by the four adults who live together in TILL's group residence in Lynnfield, using color-coded measuring cups and recipes to add the ingredients, adaptive switches to power the electric mixers, and adaptive pourers to divide the sprinkles and candy toppings into equal portions. With hand-over-hand assistance from staff, the group packaged, labeled and sold each kit, raising an impressive $750 for Project Bread.
"The residents and staff at TILL Lynnfield demonstrated both ingenuity and great generosity in their support of Project Bread, whose mission of feeding the hungry in Massachusetts is of the utmost importance," said Providers' Council President & CEO Michael Weekes. "We at the Council are proud to present them with an Award of Excellence for their volunteer initiative, and we hope their wonderful act of kindness inspires others too."
Dafna Krouk-Gordon, president and founder of TILL, said that TILL's Lynnfield residence's commitment to volunteerism is extraordinary, and is defined by continuity and inclusive participation. "Staff and residents actively seek out and engage in volunteer efforts that require an ongoing level of commitment, and which enable each resident to actively contribute, with appropriate supports," she said.
The group's long track-record of service includes working with the Make a Wish Foundation of MA and RI to create "countdown calendars" to build excitement about upcoming vacations for children with critical illnesses. In Wakefield, they joined efforts with an Eagle Scout project to beautify the Paddy Heights Veterans Memorial dedicated to World War II veterans, and to make it accessible to wheelchair users. Even with the project complete, the group remains committed to the project, requesting donations from local nurseries, handling spring cleanup, and spring and holiday plantings.
Early into the COVID-19 pandemic, TILL staff realized that the best way to cope with the unknown and fill the sudden void was to find a cause to rally behind. Hand painted rocks and inspirational messaging to inspire others morphed into a fundraiser, with the group selling "Kindness Rocks" kits to raise money to create care packs for hospital frontline workers.
Tapping into their community connections, they distributed 100 TILL Cares Kits - overflowing with healthy snacks, nutritional energy drinks, chap sticks, hand sanitizer, lotions, heart-shaped cookies and messages of appreciation - to eleven area hospitals, a hospice house in Massachusetts, and a New York hospital where a former TILL staff member is part of the medical team.
"These men and women, longtime residents of our Lynnfield home, put their own needs aside and set a standard of excellence as volunteers in the community," said Krouk-Gordon. "They use the power of volunteerism to become truly involved in community life and all that it has to offer," she said.