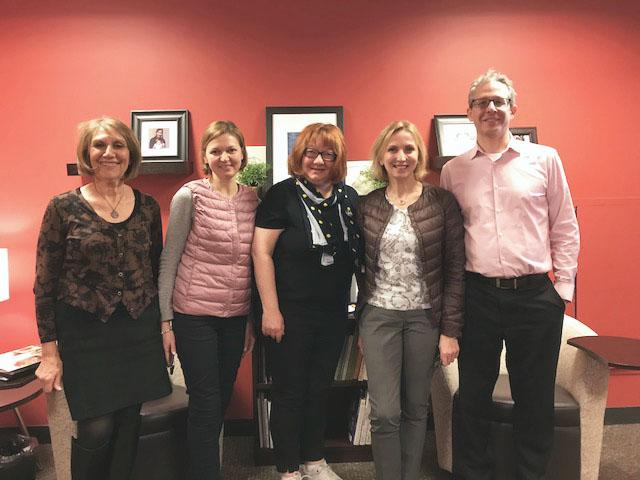 March 8-10: Downside Up, Moscow, Russia
Members of the Russian organization, Downside Up, dedicated to improving the quality of life for  people with Down syndrome, made a number of connections during their whirlwind visit.  The group toured ETC's entrepreneurial food service program and gift shop, enjoyed an evening with residents, staff and families from our Muzzey St. and Waltham St. homes, visited leaders at the ARC of Massachusetts and the Massachusetts Down Syndrome Congress AND managed to squeeze in some sightseeing with TILL family members and Payroll Manager, Emiliya Ryaboy. Pictured left to right: Dafna Krouk-Gordon with visitors Irina Menshenina, Natalia Usoltzeva, Tatiana Nechaeva, at the offices of the Mass Down Syndrome Congress.
March 15-21: Autism Initiatives, Northern Ireland
In 2017, Autism Initiatives staff and service-users welcomed TILL travelers for a week of learning, touring and sharing ideas, so we were thrilled to re-connect with members of their group on this side of the pond.
In March, travelers from Autism Initiative of Northern Ireland joined us for a very full week; presenting at our International Exchange Symposium; connecting with friends, old and new; visiting our homes and programs, touring local sites, and celebrating St Patrick's Day, American style, at Springboard's Annual Gala! 
This valuable connection will continue with Springboard Travel Club's fall trip to Ireland and more!
March 17-24: TILL's Education Through Travel (ETT) program creates adventure for Riverview School students.
Thirteen students and three staff from the Riverview School, in Sandwich, experienced an unforgettable journey in Costa Rica, led by Dale Belcher, TILL's Community Services Coordinator.  During their week-long adventure, the group connected with local students, learned some new dance moves, travelled to the cloud forest on horseback and ziplined through the trees.
ETT offers exciting, supportive world exploration for travelers with learning differences: preparing for new experiences with a pre-travel curriculum, learning essentials skills needed for a successful and memorable trip.  ETT takes travelers beyond the typical tourist attractions by connecting with locals, and learning about their culture and their daily lives.
April 27-May 6: Neuerkerode Community, Germany
In 2014, a chance meeting with Neuerkerode's inclusive band, The Mix, while in Boston on their North American Tour, resulted in this ongoing connection.  In 2015, seven travelers from TILL toured Germany and this integrated community. 
TILL was pleased to host administrators from the Neuerkerode Community in Germany as they toured many of our programs and local attractions. They joined Cluster 2 for a wheelchair roller painting demonstration and attended the famous "Meet John and Paula Day" with the Day programs, held this year at the JFK Museum and Library.   The group was very interested to learn about TILL and our innovative programs. 
The TILL Wave Band, musicians, service-users and staff are returning to Germany this August to join the festivities celebrating the 150th anniversary of the establishment of the Neuerkerode Foundation.

(L-R) Peter Savic, Founder and Musical Director of the Mix; Marcus Eckhoff, Head of Living and Care Neuerkerode; Rudiger Becker, CEO Neuerkerode; Dafna Krouk-Gordon, TILL Founder and President; Ingo Beese, Head of Administration Neuerkerode, Hans Henning Muller, Head of Mehrwerk; John Stevens, TILL Director of Special Projects.